"SAVOKASÄLPÄ – Экспериментальные музыка и кино из Финляндии" tour presents Finnish experimental music and film in Russia from 23 to 29 November 2019. The featured artists are Mika Taanila, Anton Nikkilä, Alexei Borisov, Anne Hämäläinen, Modern Feelings, Pakasteet, Ilia Belorukov and Swissair.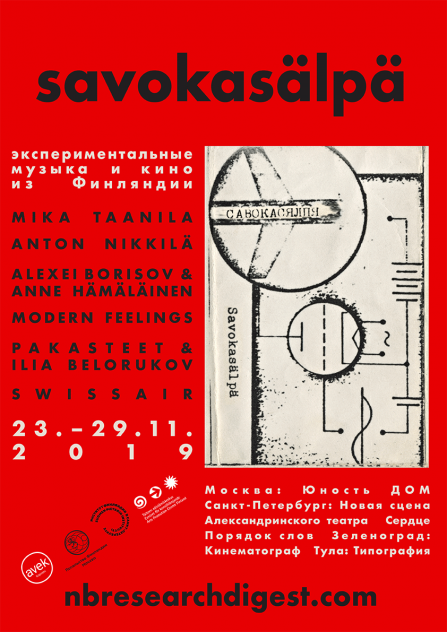 Taanila's films are programmed by curator Boris Nelepo. The selection includes twelve films, six music promo clips and two video installations.
Read Boris Nelepo's article in Seance (7.11.2019)
Read Inna Kushnareva's article in Colta (21.11.2019)
Read Moskino information about the film screenings in Moscow
Read about "Musical Time Machines" at Word Order, St. Petersburg
Read about the night at The New Stage of the Alexandrinsky Theatre, St. Petersburg
Pakasteet plays two live shows on this tour, on 26 November in Moscow with Alexei Borisov and on 27 November in St. Petersburg with Ilia Belarukov.
The tour is organised by N&B Research Digest in co-operation with Moskino and curator Boris Nelepo, Valtavat Ihmesilmälasit Records, Testifilmi Oy, Kinotar Oy, AV-arkki, Cultural Centre DOM, Floating Sound Gallery, Intonema, Word Order, Tipografiya, Kinematograf Klub, The Finnish Film Foundation and Alt Agency & Management with support from the Embassy of Finland in Moscow, the Consulate General of Finland in St. Petersburg, The Finnish Institute in St. Petersburg, the Arts Promotion Centre Finland and The Promotion Centre for Audiovisual Culture (AVEK).