Tectonic Plate is a cameraless film about fear of flying, security checks and time zones.
After returning from a lengthy business trip to Tokyo, the  nameless protagonist is inexplicably stuck at a hotel nearby the Helsinki airport. The events are fixed to the character's life-style of constant jet lag and multitasking.  The use of various technical devices, such as phones, computers and heart rate monitors, slivers his time-management and modifies the consciousness.
The episodes of on-screen texts and of moving image alternate in the narration of this dualistic work.
The techniques used for the moving images are photocopying documents related to air-travel directly onto clear 35mm film and darkroom exposure of objects placed on 35mm reversal film (photograms).
"In the 'camera-less' experiment Tectonic Plate, visual-artist Mika Taanila's photograms and poet Harry Salmenniemi's stark intertitles simulate the jet-laggy anxiety of international air travel. Pages from security pamphlets are distorted into rough particles of grain; a five-minute zoom-out transforms words into geometric patterns. These shifts between legibility and abstraction often literally force the viewer's eyes to refocus, dislocating both cognitive and sensory perception; the resulting dissociative panic produces a very bodily feeling of free fall. The physically droughts photograms, which alternatively evoke encephalographs or airport x-rays of carry-on items, anchor the out-of-body paranoia in an unshakable tactility."
– Chloe Lizotte, Film Comment
Distributed by Arsenal (Berlin) and AV-arkki (Helsinki).
VOD rent or buy here:
buy Blu-ray Box Set at Lux Shop (London)
buy Blu-ray Box Set at Ektro Store (Pori)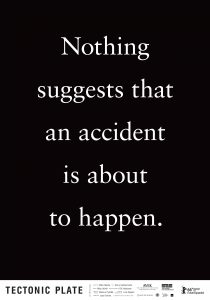 Selected screenings:
Whitechapel Gallery, London, UK 2017
Cinéma Spoutnik, Genève, Switzerland 2016
Milano Film Festival, Italy 2016
Edinburgh Film Festival, UK 2016
Bildrausch Film Fest, Basel, Switzerland 2016
"Seeing in the Dark", Brussels Cinematek, Belgium 2016
Berlinale Forum Expanded, Germany 2016

Tectonic Plate

Tectonic Plate

Tectonic Plate

Tectonic Plate

Tectonic Plate

Tectonic Plate