Mika Taanila's collage film The World (2017, 8 min) is picked for the selection of Week 3 at My Darling Quarantine Short Film Festival.
Talking Shorts presents every week an online programme of seven short films on the subject of "dystopia" that have been suggested from our quarantined short film friends around the globe. The audience can then vote for their favourite film.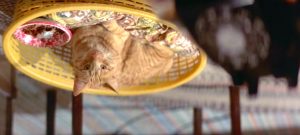 In light of the current COVID-19 situation that is unfolding across the world, the film industry has seen many events postponed and cancelled. This includes many major short film festivals, amongst them Go Short – International Short Film Festival Nijmegen, the Glasgow Short Film Festival, Short Waves Festival in Poland and Canada's Festival Regard, as well as such events as CPH:DOX in Copenhagen, SXSW in Texas, Tribeca in New York and Vision du Reel in Nyon.
In response to these events a new online short film festival entitled MY DARLING QUARANTINE will began on Monday 16th March. Hosted on the platform Talking Shorts, it will help raise money for those fighting against COVID-19 and those people and events that have been affected by the situation.
The festival was initiated by Enrico Vannucci, short film advisor for the Venice International Film Festival and programmer for Torino Short Film Market, who is currently living under quarantine conditions in Italy.